Passavant®
Stop Plates
(sealed on 3 sides)
Safe, resilient, nearly maintenance-free:
The 3-sided or 4-sided sealing shut-off devices are suitable for one flow direction and ensure maximum safety. They are available in dimensions up to 10.000x10.000 mm.
Unique Selling Point
Maximum safety through static and stress calculation by means of Finite Element-Method
Optimized steel-welded construction, largely maintenance-free
Low maintenance costs due to the use of different stainless steel grades, all steel parts are pickled and passivated
Equipped with flood valves to minimize tractive forces when pulling the stop plate
Hook tackle available for ergonomic operation of the stop plate
Suitable for the following markets
Gallery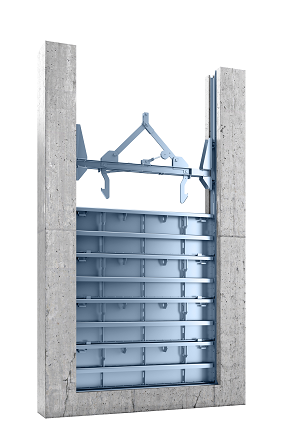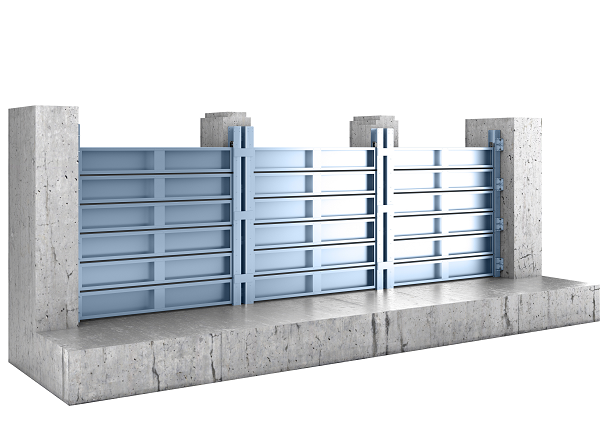 Insights
Safely shut-off inflows and outflows of water:
Passavant® Stop Plates ensure tightness according to class 2 (DIN 19569, table 1) by sealing on three or four sides in one flow direction with a note shaped profile rubber seal. A high loading capacity even with hard and bulky contents in the waste water and the avoidance of crevice corrosion through constructive prevention and through-welded seams make them a reliable shut-off device in water management.
Passavant® Stop Plates are available with a straight sill. The frame can either be concreted in front of or in the channel or doweled to a straight wall. The prerequisite for dowelling is a level and straight shaft wall according to DIN 18202. The plate is a welded construction out of bended profiles. The Stop Plate is optionally available with crane eyes or a hook tackle for lifting or setting the panel. Designed and manufactured in our factory according to DIN 19569-4. Special designs are possible.