Passavant®
Penstocks
(sealed on 4 sides)
Safety and reliability down to the smallest possible detail: Passavant® penstocks are 4-sided sealed shut-off devices suitable for both flow directions and are available from 200x200 mm up to 7000x7000 mm and 5 bar (50 m wc).
Unique Features
Maximum safety through static and stress calculation by means of Finite Element-Method
Optimized steel-welded construction, largely maintenance-free
Avoidance of crevice corrosion through constructive prevention and through-welded seams
High loading capacity even with hard and bulky contents in the waste water
Our spindles are rolled, not cut
Suitable for the following markets
Gallery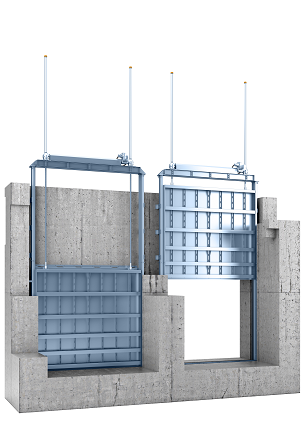 Insights
Made of various types of stainless steel that gain durability through pickling and passivation, the Passavant® Penstock regulates the water flow reliably with a tightness according to class 4 (5) DIN 19569 (Table 1). The penstocks are available as sliding or roller gate. The plate is a welded construction out of bended profiles. A double lip seal or a double bulb seal is available for sealing in one or both flow directions. The drive is possible electrically, hydraulically or manually as underfloor and overfloor operation. The use of a mother box compensates for misalignments and guarantees smooth running. The penstock is available as a single- or double-spindle version. In addition, there is a choice between a semi-circular or straight sill or as a drop-down penstock. The slide frame can either be doweled to a straight wall or concreted into building recesses. The prerequisite for dowelling is a level and straight shaft wall according to DIN18202. The penstock is designed and manufactured in our factory according to DIN 19569-4..