Passavant®
Penstocks
(sealed on 4 sides)
On the occasion of the development and production of shut-off devices, Aqseptence Group looks back on more than 100 years of experience. Stringent quality criteria guarantee safety within a general framework and reliability down to the lowest possible detail.
Unique Selling Point
Maximum safety due to static and stress calculations (Finite Element-Method)
Optimized welded construction for long service life
High loading capacity with regard to hard and bulky objects in the wastewater
Low maintenance, therefore low running costs. All stainless steel parts pickelt and passivated
Individually customized, according to specific utilization/customer requirements
Cost effective standard programm
Also as weir sluice gate available. Spindles rolled not cutted
Suitable for the following markets
Gallery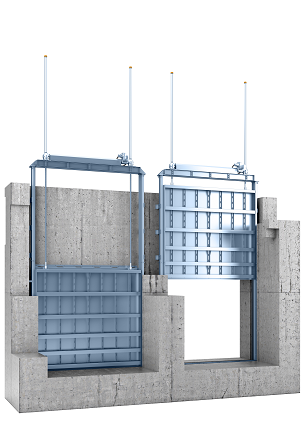 Insights
Penstock with straight or rounded sill. For grouting in concrete or fordoweling in front of the channel. On a straight wall in compliance with DIN18202. Sealing on four sides. Design in compliance with DIN 19569-4, leakageclass 4/5. Suitable for both flow directions. Steel welded design in compliancestatic specifications. Edged profile frame with fixation clamps all around (inthe version used with dowels). With replaceable profile seal on all sides (standard double lip). Pressing of seals via sliding strips. Moss rubbersealing between frame and structure. Spindle drive for various below ground andabove ground level drives. All types of actuating possible.