Noggerath®
Rotary Drum Screen
RSH-I
Separation and discharge of solids or respectively contaminants from a liquid phase for disposal or, where appropriate, for recycling.
The Noggerath® Rotary Drum Screen RSH-I has successfully been employed in municipal wastewater treatment plants and in the cleaning of industrial process water for over 25 years.
This rotary drum screen – originally developed for the paper industry – has proven to be particularly reliable and robust in daily use.
Unique Selling Point
Suitable for continuous operation and gentle handling of solids
Internal loading and high solid loads
Complete stainless steel encapsulation
Direct drive of the drum
Axial guiding trunnion wheels stabilizes drum position
Suitable for the following markets
Gallery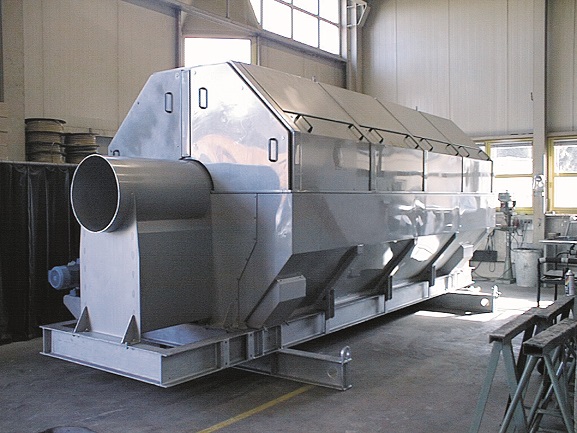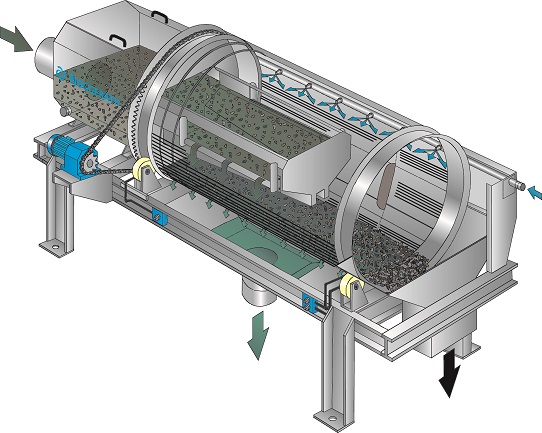 Insights
The process water, or respectively wastewater, flows into the headbox via the inlet flange. Here the flow velocity is reduced and the solids in the water are homogenized. The liquid reaches the inner surface of the horizontal rotating drum by overflowing lateral weirs, and tangential loading results in a self-cleaning effect on the sieve surface. The solids captured in the drum are transported axially by flights which are mounted on the inner walls. The solids are dewatered during transport to the discharge end of the screen.